Annual Planning Process
Main Content
Each unit within the University will create an annual plan that details how IMAGiNE2030 will be supported.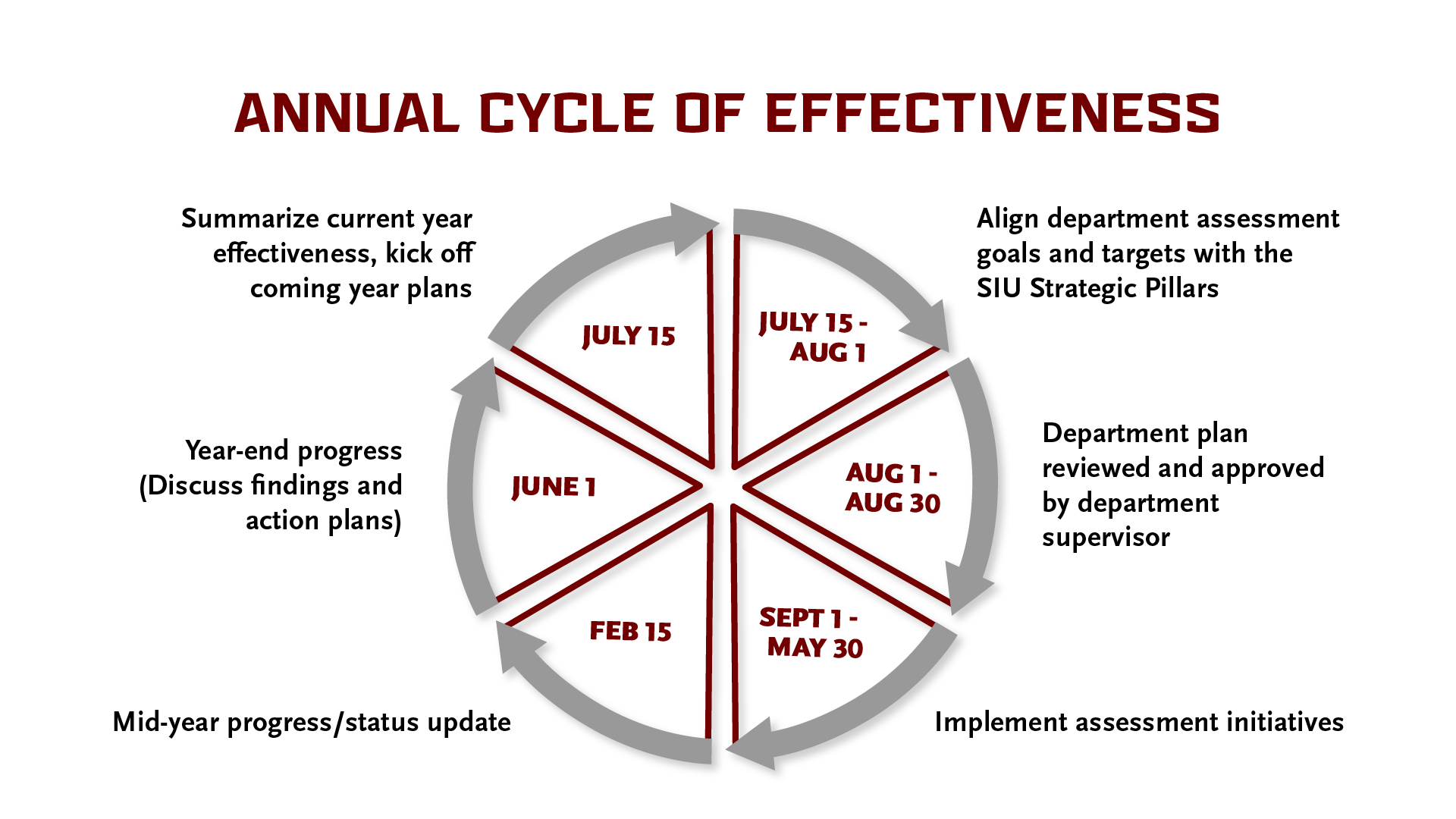 Plan

Unit Objectives

Unit objectives are clearly laid out, using action verbs; the objectives are specific, measurable, realistic, and relevant to the unit's mission and the institution's mission.

Expected Outcomes

Specific target or benchmark standards are set based on faculty input and researched information; expected outcomes logically follow the unit objectives.

Action Steps

Action steps are laid out with owners and timeline clearly identified; they are also relevant to the accomplishment of the Unit Objectives.

Assessment Methods

Mixed methods for data collection and data analyses are identified and clearly laid out to adequately gauge the fulfillment of the expected outcomes.

Implement

Progress

Ongoing communication on progress or shifting priorities/resource requirement

Evaluate

Results

Data are reported, analyzed, and conclusion is drawn.

Recommendations : Use of Results

The recommendation is specific, realistic, and based on the interpretation of the data.
The process begins with each unit and academic area creating a detailed plan:
| Strategic Alignment | Unit Objective | Expected Outcomes | Start Date | Finish Date | Action Steps | Method of Assessment | Assessment Schedule | Resources Needed |
| --- | --- | --- | --- | --- | --- | --- | --- | --- |
| A broad statement that describes what is to be achieved to fulfill the institution's mission (Numbered as 1.2 or 4.7, for example | Statements of aims or desired ends whose achievement can be assessed to demonstrate progress toward or achievement of their goals | Achievement targets and benchmarks | When will initiative/Action plan begin? | When will initiative/Action plan end? | Steps or strategies need to be accomplished in order for you to attain your objective? | Method & Data selected to measure progress of an outcome. Who will be collecting the data and what will they collect? | When will the data be collected? | Fiscal Impact/Personnel Resources needed to implement plan |